Blackwell Ford Inc Has the Service You Need With Easy Online Scheduling
When your vehicle is ready for service, it is a no brainer that you should bring it to our location for the best quality and most convenient online scheduling. Here are some more reasons to come to Blackwell Ford Inc. in Plymouth for service. Our highly-trained service team wants to keep your vehicle running as efficiently as possible because we like to see our customers driving cars that run clean and drive clean.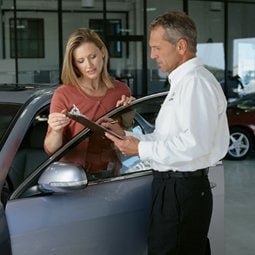 Oil Changes Done Right
Bring your vehicle to us when its time to change the oil and filter on your vehicle. We will get you in and out of the shop near Livonia in minimal time. We always use the parts recommended by the manufacturer to ensure high-quality performance. Many people put off getting this service, but it is one of the most important things you can do for your Ford vehicle.
Brake Services
If your brake service light is illuminated, or if you are feeling a rumbling sensation when you press on the brakes, then it's a good time to bring your vehicle into our workshop to have it taken care of. We can replace your brake system with a full new set of pads and rotors in just a few hours when you make an appointment online in advance.
Coolant Flush and Coolant System Repair
Flushing out the coolant system is a service that is necessary to be performed a few times throughout the life of a vehicle to ensure that the engine is being cooled sufficiently. Coolant leaks are no fun; we'll help keep your engine from overheating.
Air/Cabin Filter Refresh
Changing your air filter out will help your engine run smoother on drives around Canton, and keeping the cabin filter clean will ensure that you are breathing the cleanest of air while driving. These are parts that are worth switching out every 20 thousand miles or so, but be sure to consult your manual.
We Repair and Replace Tires
Did you get a flat tire? We want to help. Bring your damaged tire to us, and we'll see what we can do about repairing it. Our service technicians are also super helpful when you need to change out your seasonal tires for the cold winter or hot summer. Our service advisors will help you get the best deal possible on a set of tires that is perfect for your vehicle and your wallet.
Full Vehicle Inspection
We care that you are driving down the road in a safe vehicle. When you bring your car to our location in the Westland area, we always make sure that your vehicle is running smoothly, and we'll also make you aware of any repairs that you may need soon. We'll perform a full inspection of your vehicle before you take a long road trip, or even if you are going to buy or sell a car from a private owner.
We Can Diagnose Your Problem
Is there a problem with your car that you can't quite pin down? At Blackwell Ford Inc., we will be able to tell you what's going on even if it doesn't seem like it is a serious problem. If you have a check engine light illuminated, it's a smart idea to bring your vehicle in for service to avoid further problems down the road.
Visit Blackwell Ford Inc. to Learn More
It's easy to schedule service online at any time. When you bring your vehicle to us for service or repair, you can drive home with the confidence that you put your vehicle maintenance on paper. Don't trust an amateur to take care of your vehicle repair. Protect your investment by bringing it to our location in Plymouth near Northville, where we have highly-trained technicians that you can trust to perform the work properly. We look forward to working with you soon!